No Limits Textiles Summertime Bandana-Styled Neck Tube / "Adventure Awaits"
No Limits Textiles Summertime Bandana-Styled Neck Tube / "Adventure Awaits"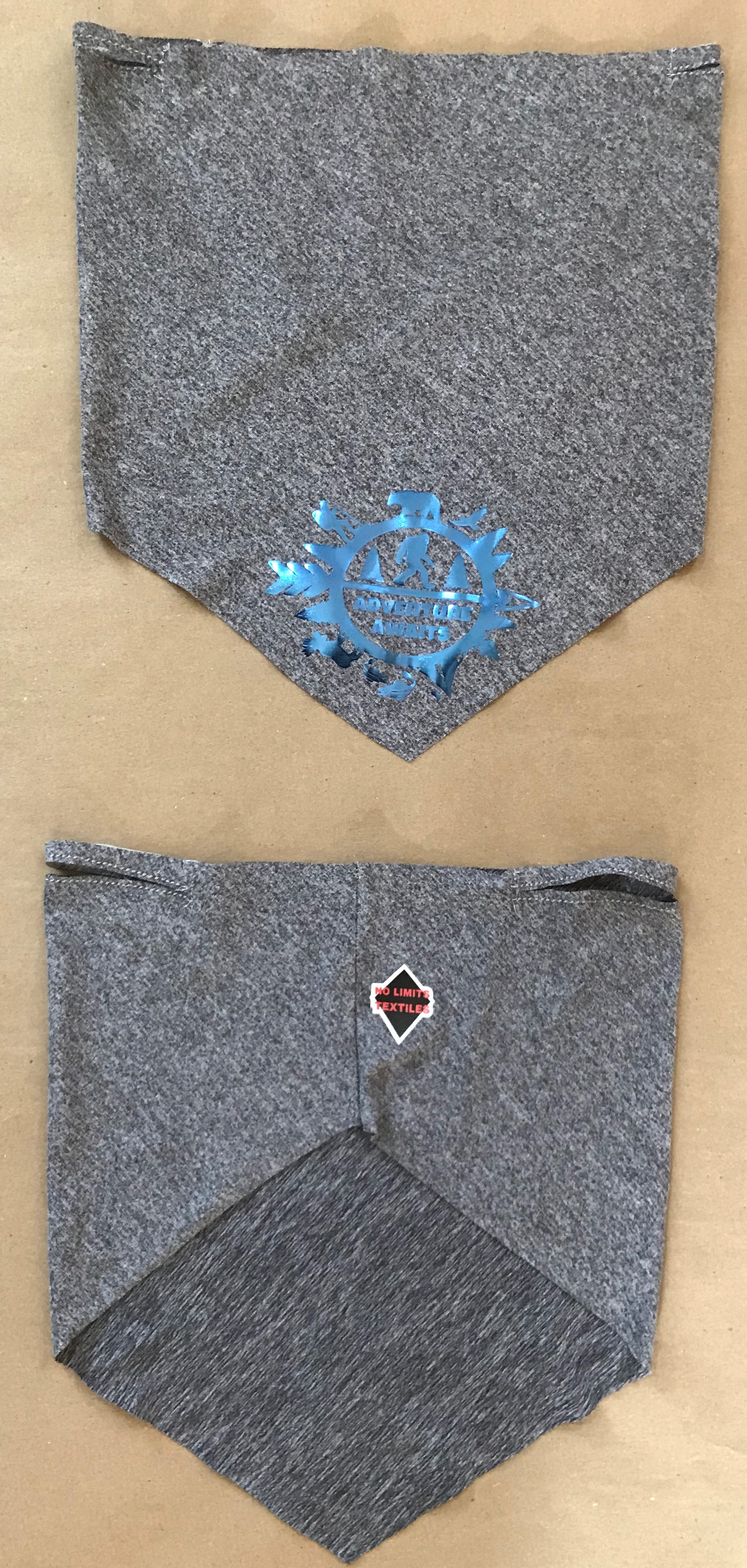 Details
Send to friend
Customers also bought
Customer feedback
No Limits Textiles Summertime Bandana-styled Neck Tube. Lightweight polyester-spandex knit fabric that feels terrific---not slippery. Color: Heather Grey. Made with ear slits.
Bandana-styled: Sewn-together neck tube in back, bandana fabric "tip" in front. This style provides skin coverage for the skin that exposed to the sun by an open-collar shirt.

Front, top-of-tube-to-bottom-tip: Approx. 10 1/2" long. Back of Neck tube length: Approx. 4" long.

"Flat width" measurement: Approx. 9 1/2" across

For those of us that have a smaller than average noggin, this design includes ear slits along the top to help keep tube positioned over one's face when protection from the sun or windy conditions is needed.

"One size fits most."

Neck Tube rolls up tiny when not needed.
Available for purchase in three styles: Plain / No Graphic, with Blue Metallic "Adventure Awaits" circular graphic or with Red Metallic "Adventure Awaits" graphic. The "Adventure Awaits" graphics measures approximately 3 1/2" high X 4" across and is positioned on the front of the tube towards the bottom of the tipped fabric. No Limits Textiles customizes tubes at time of order placement.
Content: 100% polyester-spandex blend. Fabric is imported.
Care: Turn neck tube inside-out to protect custom graphic is tube has one prior to washing. Hand- or machine wash cold temperature using mild detergent. Wash with "like" colors. Do not use fabric softeners. Air- or tumble dry low heat. Do not dry clean.

Customer Reviews
There have been no reviews for this product.