Rothco Military Type Adjustable Boonie Hat - Khaki
Rothco Military Type Adjustable Boonie Hat - Khaki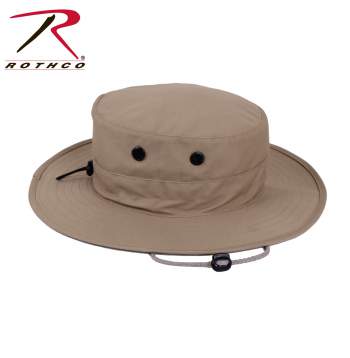 Details
Send to friend
Customers also bought
Customer feedback
Rothco Military Type Adjustable Boonie Hat in the color Khaki (Style 52557). We love this hat because of its 2 1/2" wide brim, its four side vents and it water repellent fabric finish. Additional attributes include:
Hat is made using a cotton / polyester blended fabric that balances the light weight of the hat with the hat having structure i.e. its lightweight but NOT floppy.
The hat includes an adjustable chin strap with cord lock. You may choose to use it to secure your hat firmly on your head during windy days or store the strap up in the hat crown (or simply position the strap down behind your head).
Hat is designed to offer an adjustable fit through the use of an elastic cord and cord lock at the base of the hat crown. "One size fits most". Terrific for noggins that wear hats ranging in size from 6 3/4" to 7 3/4".
Hat may be purchased free of any graphics or purchased with a graphic located on the top of the hat. Individuals may choose from four graphic designs in metalli blue: "Lake lovin' Girll" ,"Camping, Nature, Hiking +", "Eat Sleep Fish" and "Adventure Awaits". Make your selection at time of order placement.
Rothco's Adjustable Boonie Hat is modeled after the classic military boonie, an essential component of US Army uniforms for over 50 years. Rothco is the foremost supplier of military, tactical, outdoor, survival clothing and gear.
Content: 55% Cotton / 45% Polyester. Hat made in China.
Care: Per Rothco's instructions. Spot wash badly soiled areas. Wash in hot water using soap or detergent. Rinse at least 3 times to restore water repellency. Machine spin or squeeze by hand. Machine dry at moderate heat or hand to dry. DO NOT STARCH.
For California Residents:

WARNING: This product can expose you to Bis-(2-ethylhexyl) Phthalate (DEHP) which is known to the State of California to cause cancer and birth defects or other reproductive harm. https://www.p65warnings.ca.gov/
Customer Reviews
There have been no reviews for this product.